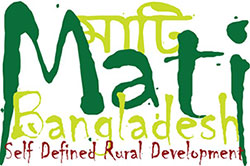 Expression of Interest to carry out a thorough analysis of the employment situation for young adults in Mymensingh town and adjacent areas in December 2020
MATI Bangladesh, a reputed development organization, has been working for the sustainable development of both rural and urban poor people in the northern part of Bangladesh since inception in 1997. The organization invites eligible candidates to submit an EoI to undertake the above mentioned study.
Working days: 18 days of which Field works (based in Mymensingh): 11 days
Only candidates who can provide the following should apply:
Proven experience in the conduction of assessments following standards set by international organizations

2 references of previous mandates

Copy of an example of a previous study or assessment (not older than 3 years)

Oral and written fluency in Bangla and English
Candidates who meet the above mentioned criteria should send their EoI with CVs and supporting documents and a quotation of their expected per diem by email to: matibangladesh@hotmail.com, on or before 15 November 2020, 05:00 PM
ToR will be made available only to the shortlisted candidates after the initial selection process.