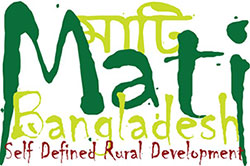 EoI for conducting Evaluation
MATI Bangladesh, a reputed development organization, has been working for the sustainable development of both rural and urban poor people in the northern part of Bangladesh since inception in 1997. The organization has been implementing a project entitled "Essence of Learning – Early Childhood and After-School Education for children of low income working mothers-Phase II" since 2018, supported by Caritas Switzerland (CaCH).
The project aims at creating positive impact in the lives of marginalized communities in Bangladesh through 'early childhood development' in the fields of Right to Education, Peace Building, Poverty Reduction and Social Justice and implemented with 320 Children of low-income working mothers in the city of Mymensingh and two villages of Mymensingh and Sherpur district.
The organization seeks Expression of Interest (EoI) from qualified consultants/consulting firms who can conduct Evaluation of the project as per the attached ToR.
Please click here to download the detailed ToR.
Interested consultants/consulting firms are requested to submit EoI on or before 10 November 2020, 05:00 PM electronically to matibangladesh@hotmail.com