Local Open Tender Notice
Date: 01 JUNE 2021
HEKS/EPER is a swiss INGO founded in 1946. HEKS/EPER is supporting local partner organizations with around 200 projects in 34 key countries worldwide. HEKS/EPER Cox's Bazar office provides emergency relief and aid under the supervision of Humanitarian Aid Department.
HEKS/EPER, humanitarian Aid Office in Cox's Bazar hereby announces launch of the following tender:
| | |
| --- | --- |
| Work descriptions | Geographical locations |
| Installation of 13 (thirteen) deep tube-wells (around 1200 feet depth) with solar power in the community level government health care facilities including supply, delivery, installation, fitting and fixing of the necessary materials as per the schedule and the direction of Engineer-in-Charge. | Any locations of Cox's Bazar district |
Interested contractors are invited to participate in this Invitation to Bid (ITB) by submitting the "unit cost" of the items mentioned in the schedule.
Terms and conditions:
1. The "unit cost" must be inclusive of VAT, TAX and contractors' profit.
2. VAT and TAX will be deducted from the payment.
3. Account payee cheque will be provided after VAT-TAX deduction.
4. HEKS/EPER reserve the rights to change the working locations or number of tube wells without informing/consulting the contractors.
5. HEKS/EPER also reserve the rights to cancel the ITB or any specific or all Bids without informing/consulting the contractors.
6. Final payment will be made based on actual work done quantity and accepted by Engineer-in-charge.
Submission procedures:
Please submit the SCAN copy of the following documents to this email (heks.hac@gmail.com) address on or before 11 JUNE 2021, by 5:00pm:
a. Complete schedule (download from the above link and complete by hand writings)
b. Updated trade license
c. Updated latest bank statement/certificate
d. Updated VAT registration certificate
e. Updated TAX certificate/e-TIN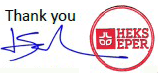 Head of Procurement Committee
HEKS/EPER, Cox's Bazar Office.