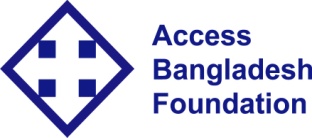 Access Bangladesh Foundation is a leading national NGO dedicated to promote equality for persons with disabilities in all spheres of life, through education, health care, appropriate training, employment, communication, and barrier free environment.
Access Bangladesh Foundation is implementing the Bangladesh Inclusion Works Project as an implementing partner of Sightsavers in Dhaka, Gazipur and Narsingdi District. The Project is funded by the UK Department for International Development ("DFID") under the terms of a grant arrangement between Sightsavers and DFID.
Position: Project Manager
Vacancy: 1 (one)
Job Responsibilities
Manage all aspects of the project cycle including planning, implementation and monitoring & evaluation;
Supervise project team members working under the assigned project;
Formulate Project Implementation Plan together with team and other relevant stakeholders and execute as well;
Orient project staffs about the Inclusion Works Project and strategy of the project implementation;
Conduct surveys as required for identifying skills requirement of industry/sectors and other employers as well as jobs demands;
Develop formal partnership between DPOs and TVET institutes and also TVET institutes and Employers;
Develop a job placement strategy and ensure proper implementation of the that strategy;
Track project expenditure against respective budget heads and manage budget;
Maintain communication with the donor agencies and meet donor compliances;
Conduct national level meetings/workshops/seminars/consultations/job fairs as needed with relevant stakeholders (e.g. government officials, community, employers, trade bodies, TVET institutes, Industrial Skills Councils (ISCs), trainees and job-seekers with disabilities etc.);
Develop necessary promotional and communication materials;
Prepare quarterly progress report, annual report, project completion report etc;
Maintain relationship with relevant Government and Non-government agencies, TVET institutes and Employers;
Ensure updated information of job-portal and database of project beneficiaries;
Establish a monitoring system to ensure quality implementation of project;
Employment Status
Contractual (till 30 June 2022, subject to availability of funding)
Educational Requirements
Master degree in Development Studies/Social Science or in any other relevant discipline /B.Sc in PT/OT/SLT from a reputed University.
No 3rd division/class will be considered
Experience Requirements
At least 7 year(s)of working experience in the field of Non-profit organizations
Additional Requirements
Age at most 45 years;
Minimum 7 years post qualification experiences in the field of NGOs including 5 years in project management experience with any National or international organization;
Candidates need to be highly motivated and committed to work with persons with disabilities;
Strong and inspirable leadership and community mobilization capacity is essential
Capacity on networking and collaboration with Govt. office, local government, employers, TVET institutes and local civil society;
Good understanding on Project Cycle Management and budget management ;
Sound knowledge on Advocacy and Rights for persons with disabilities;
Experience to work with a diverse team comprises with Project coordinator/Manager, Program officer, Rehabilitation Professional & Partner Organizations is preferable;
Good reporting and communication skills both oral and written in English and Bangla;
Good leadership and managerial skills, planning and staff management;
Good computer skills e.g. MS words, power point, excels etc;
Strong communications and interpersonal skills to meet the diverse technical and managerial requirements of the program and to effectively coordinate with a wide range of stakeholders;
Sound Technical knowledge and skill to provide guidance to field staff on job placement;
Basic knowledge on Disability and development is preferable;
Have skills on creative recommendations, organize work, set priorities, meet deadlines, and complete assignments with minimal supervision;
Honesty and high level of integrity;
Need to be highly motivated and committed to Access Bangladesh's vision, mission, and improve the lives of the most vulnerable and marginalized people.
Job Location
Savar Upazila under Dhaka District. This position requires frequent field visit to the project areas.
Salary
BDT 55,000 per month, other benefits are: one festival bonus per year and mobile allowances.
Note:
Women and persons with disabilities are particularly encouraged to apply.
Any personal persuasion/phone-call will result in disqualification of candidature.
Read Before Apply
*Photograph must be enclosed with the resume.
Apply Procedure
Candidates with the requisite qualification & experience are requested to apply with a cover letter, updated CV mentioning 2 references, 2 copies of recent passport size photographs, and photocopy of relevant documents/certificates to the Executive Director, Access Bangladesh Foundation, 10 Tarapur, Savar, Dhaka 1340 or to email address: accessbangladeshjob@gmail.com on or before 19 September, 2019.
Only short listed candidates will be invited for interview.

Application Deadline: 19 September, 2019.