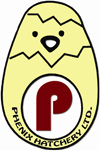 Career with Phenix Hatchery
Position: Junior Officer, HR & Admin
Purpose Statement: Maintain discipline & congenial working environment through maintaining and implementing administrative policies and protocols.
Principal Accountabilities:
Assist Manager HR & Admin in maintaining discipline and proper administrative control.

Maintain service book of workers and personal files of all employees as per recruitment and company policy.

Maintain leave records and leave utilization records as per company policy.

Ensure & administer company employment policy and practices.

Proper follow-up of data of attendance device and take necessary action based on the data.

Proper follow-up of various tasks issued through a task based software.

Managing office pantry and ensuring hospitality & confirm of visitors.

Provide end to end support regarding pool car.
Functional Competencies:
Ability to execute policies/process & systems and review them effectively.

Ability to prepare, compline & review various reports within given environment, time parameters.

Ability to study & interpret data/trends and draw inferences/projections.
Managerial Competencies:
Speaks clearly, fluently and effectively to both individual and groups. Writes in a clear and concise manner using appropriate style and language.

Demonstrates readiness to make decisions takes the initiative and originates action.

Influences, convinces or impresses others in a way that results in acceptance, agreement or behavior change.
Knowledge, Skills & Experience:
The Job holder should be a Graduate, Preferably in management with Diploma in personnel management with minimum 1-2 years experience in similar works in manufacturing / process industry.

Apply Instruction:
If you feel that you are suitable for the position, please send your CV to jobs@phenixbd.com
Or Phenix Group, House No. 39/A (Level-5), Road No. 05, Dhanmondi, Dhaka-1207
Application Deadline: September 30, 2018
Website: www.phenixbd.com