OUR VISION, MISSION, BELIEFS and AMBITION
Our Vision
Our vision is for a world where all people have access to the technologies that enable them to meet their basic needs and reach their potential, in a way that safeguards the planet today, and for future generations.
Our Beliefs
We believe that:
Technology is a key enabler of human development; and that technological innovation has the power to propel us into a better world.
All people should have access to, and a voice in, shaping the technologies that can improve their lives.
A sustainable future for our planet requires a fundamental shift in the way technology is developed and used.
Our Mission
To develop and demonstrate practical, technology based solutions that enable women and men living in or vulnerable to poverty, to lead dignified lives. To partner with people whose lives are transformed by these efforts and with a range of other organisations: ensuring local ownership, and that the solutions work in the longer term without us. To inspire change through the widespread adoption of sustainable technologies that work - socially, economically and environmentally, so that more people living in or vulnerable to poverty benefit from our learning.
Our Ambition
Our ambition is that by 2030 we will have transformed the way technology is used to improve the lives of people living in, or vulnerable to poverty.
ABOUT US
With 50 years of expertise, Practical Action has a strong heritage, and track record of bringing communities and experts together to find practical, sustainable solutions to enable people to meet their needs, which work for both people and the planet. Technology features in everything we do.
Technology is…
"The tools, and knowledge that people use for living".
Working throughout Africa, Asia and Latin America, Practical Action improves the lives of around one million people every year through access to energy, sustainable agriculture, water, sanitation, hygiene and waste management, and disaster risk reduction.
We are a trusted partner of many communities, governments, development agencies and the private sector. We are uniquely placed as a knowledge broker with a breadth of capacities that enable us to capture and share knowledge in relevant ways for our diverse audiences. We are influential at national level where we work, and globally and considered a "go-to" agency by those seeking to improve energy access for people living in poverty.
ABOUT THE ROLE
The Coordinator- Monitoring, Evaluation and Learning plays a key role in designing and analyzing of project's performance as well as carrying out some essential activities on M&E. Moreover, this position will help measure the project's goal, objectives and vital results by ensuring routine M&E data collection, analysis and reporting from diverse outputs and critical outcomes.
SCOPE
| | |
| --- | --- |
| Title | Coordinator- Monitoring, Evaluation and Learning |
| Reporting to | Manager- Monitoring & Evaluation, Learning and Research |
| Direct reports | None |
| Group | Business Development and Quality Assurance (BDQA) Unit |
| Relationships | Project team under PDU, Business Development, Quality Assurance, Monitoring, Evaluation and Learning Units, multi-level stakeholders including development partners, prospective donors, private sector and other relevant organisations. |
| Financial scope | As assigned or delegated |
| Location | Dhaka |
| Nature of contract | Regular |
| Grade | E |
| Travel | Occasional travel to project locations |
KEY RESPONSIBILITIES
Provide technical and practical inputs to design effective monitoring and evaluation system within the project and assist its field level implementation
Assist in identifying and designing the key indicators for monitoring and evaluation in order to measure progress
Provide technical support on M&E and evidence-based recommendations to the relevant Project Manager and Partners NGOs
With the coordination of partner NGO and Practical Action MIS Officer, develop and maintain databases, data entry template, data analysis framework and automated reporting system
Ensure precision, validity, reliability, timeliness and integrity of all data/ information and compilation as per project requirement
With support from MEL Manager and MIS Officer, roll out ICT base data collection and analysis for respective and PNGO staff
Ensure systematic cross/ spot checking and triangulation on the data collected from different sources. This includes desk review and physical verification of data by random verifications in project participants, beneficiaries, key information, local-national data base, etc
Incorporation of gender and equity inclusion issues in monitoring and evaluation systems to promote gender dimension in each and every activity of the project (wherever applicable)
Monitor ongoing activities and provide adaptive feedback to project team and partners NGO/s
Prepare draft M&E reports of quarterly and annual with close support from Manager-MEL
Assist MEL team in designing, coordinating and conducting periodic evaluations (baseline, mid-term and end-line)
EXPERIENCE, KNOWLEDGE & SKILLS
Master's in Social Science/Statistics/Development Studies
07 years' work experience with proven track records on Monitoring, Evaluation and Learning
Ability to manage multiple responsibilities
Excellent English writing, analytical and communication skills
Excellent ability to work with cross-functional team
Willing and able to travel independently in remote project locations
BEHAVIOURAL COMPETENCIES:
Our people are expected to demonstrate the following behaviours:

TEAM STRUCTURE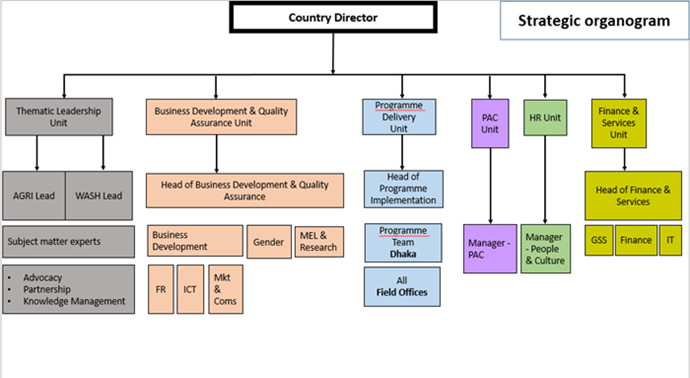 DURATION OF CONTRACT: Initially for two years, renewable upon satisfactory performance and budget availability.
SALARY & BENEFITS: Monthly Gross BDT 80,000 – 90,000 and other benefits i.e. Festival Bonus, Gratuity, PF, Insurance coverage as per organisation policy, subject to qualification and experiences.
HOW TO APPLY
Please apply online through uploading your CV mentioning two referees by 23 January 2019.
Although Practical Action Bangladesh is an equal opportunity employer but women candidates are highly encouraged to apply. Only shortlisted candidates will be called for interview. Practical Action is committed to safeguarding and expects all staff and all those acting on behalf of Practical Action to demonstrate and share this commitment.