OUR VISION, MISSION, BELIEFS and AMBITION
Our Vision
Our vision is for a world where all people have access to the technologies that enable them to meet their basic needs and reach their potential, in a way that safeguards the planet today, and for future generations.
Our Beliefs
We believe that:
Technology is a key enabler of human development; and that technological innovation has the power to propel us into a better world.
All people should have access to, and a voice in, shaping the technologies that can improve their lives.
A sustainable future for our planet requires a fundamental shift in the way technology is developed and used.
Our Mission

To develop and demonstrate practical, technology based solutions that enable women and men living in or vulnerable to poverty, to lead dignified lives. To partner with people whose lives are transformed by these efforts and with a range of other organisations: ensuring local ownership, and that the solutions work in the longer term without us.To inspire change through the widespread adoption of sustainable technologies that work - socially, economically and environmentally, so that more people living in or vulnerable to poverty benefit from our learning.

Our Ambition

Our ambition is that by 2030 we will have transformed the way technology is used to improve the lives of people living in, or vulnerable to poverty.

ABOUT US

With 50 years of expertise, Practical Action has a strong heritage, and track record of bringing communities and experts together to find practical, sustainable solutions to enable people to meet their needs, which work for both people and the planet. Technology features in everything we do.

Technology is…

"The tools, and knowledge that people use for living".

Working throughout Africa, Asia and Latin America, Practical Action improves the lives of around one million people every yearthrough access to energy, sustainable agriculture, water, sanitation, hygiene and waste management, and disaster risk reduction.

We are a trusted partner of many communities, governments, development agencies and the private sector. We are uniquely placed as a knowledge broker with a breadth of capacities which enable us to capture and share knowledge in relevant ways for our diverse audiences. We are influential at national level where we work, and globally and considered a "go-to" agency by those seeking to improve energy access for people living in poverty.

ABOUT THE ROLE

The Manager - Fundraising and Proposal Development plays a key role at organisational level for fund/income mobilisation which includes - quality proposal writing, researching donor calls, donor intelligence sharing, managing donor relation and providing program strategic support. Being a member of the Senior Management Team responsible for building organisational profile and achieve the change ambitions of Practical Action around - Inclusive Agriculture, Urban Water and Sanitation & Hygiene, Energy and Disaster Risk Reduction thematic areas.

S/he is responsible for business development for the organisation. The core purpose of this role is to enable a viable model of funding to meet the change ambitions, keeping a steady organizational income growth. As a key member of the Bangladesh Business Development & Quality Assurance(BDQA) team, s/he will collaborate closely with senior colleagues, other managers to ensure integration of income mobilization approaches.

Responsibilities and accountabilities are indicated below with approximate level of effort against each.

SCOPE
| | |
| --- | --- |
| Title | Manager - Fundraising and Proposal Development |
| Reporting to | Head of Business Development & Quality Assurance |
| Direct reports | Coordinator - Fund Raising, Business Development Officer |
| Groups | Member of Business Development & Quality Assurance Team |
| Relationships | Donors and National NGOs/INGOs, Private Sector, Corporate, UK International programme Team, UK Major Partnerships team, UK Marketing and Comms, other Units of Country office |
| Financial scope | As delegated/assigned |
| Location | Dhaka, Bangladesh |
| Nature of contract | Regular |
| Grade | D |
| Travel | Expected, approximately 1 - 3 weeks per quarter local travel plus 1 week per year international travel |
ACCOUNTABILITIES
Generating Funding and Managing Relationships and Achieving Change Ambitions – 50% of total time
Quality proposal development:
Understand the problems, opportunities, scope of innovation and systemic change issues around Practical Action's change ambition of agriculture, WASH, Energy and Disaster Risk Reduction.
Write quality proposals (technical narrative, budget) and roll out the organizational proposal development process which includes Go No Go, Project Quality Approval, Award Approval etc. with UK Head Quarter. Facilitate a team work for every proposal development.
Undertake field visits for fundraising as required.
Manage donor liaison, relations, networking
Maintaining strategic contracts with different donors, support programs in ensuring donor compliances and donor communication.
Networking with likeminded INGOs, academia, private sector, Government on issues of common interest for consortium building
Donor intelligence/research:
Assess donor calls and prepare opportunity summary, check organizational and donor fit. Share donor intelligence to others in the country office and internationally weekly, monthly and quarterly
Update the Project and Award Management Database and Tracker in regular intervals.
Contribute to funding growth and gap analysis
Work with BDQA Head, CD and Finance team to analyse funding growth and gap by theme and program (even by sub goals) in each quarter and share that information for planning and income forecast. Track the pipeline projects to calculate accurate pipeline amount of income by quarter and by year.
Strengthening Organisational Profile – 10%
Represent Practical Action internally and externally (particularly to donors) on strategic matters as relevant
Support to strategic large projects as advisor, conduct studies for critical evidences.
Leadership, Management and People – 10%
Encouraging joined up ways of working with other units of Country office– especially thematic leadership unit, programme delivery unit, and services teams
Build team capacities related to marketing, strategic relationship and proposal development
Promote team Learning & development including approaches such as coaching, mentoring, peer learning and reflection activities
Conduct quarterly People Management conversations with direct reports.
Delivering Performance as One Practical Action – 30%
Oversee and track awards and contracts to ensure reports and contractual commitments are submitted on time
Collaborate with different thematic groups, M& E team and Communication & Marketing team, Gender Specialists as required under the supervision of Business Development and Quality Assurance Head.
Work for Practical Action Consulting Ltd. arm for funding sources and conducting studies
Support Programme Delivery Unit to bring operational excellence
EXPERIENCE, KNOWLEDGE & SKILLS
Master degree in Social Sciences/ English/Journalism /Business Administration/ Development studies/Agricultural Science or any relevant field. Overseas education is highly encouraged.
At least 10 years of experience on Agricultural, WASH and DRR project context (research, implementation, evaluation), challenges high quality proposal and scientific paper writing ( report editing skills, writing media articles, publishable papers), donor communication and fund mobilisation for a national or international development organization
Track record of understanding development work around urban development, WASH, agriculture, energy and Disaster risk reduction. Having research and analytical skills, high quality writing skill will be an added advantage.
A person well organized, attentive to details, and use concise, persuasive writing
Ability to manage multiple responsibilities and to set priorities
Excellent English writing, analytical and communication skills
Excellent ability to work with a virtual cross-functional team
BEHAVIOURAL COMPETENCIES

Our people are expected to demonstrate the following behaviours:

TEAM STRUCTURE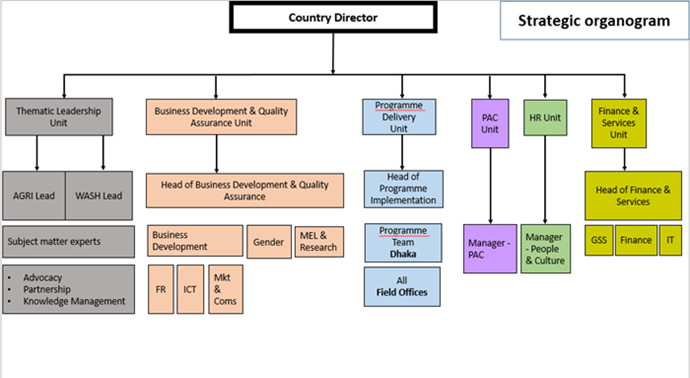 DURATION OF CONTRACT: Initially for 02 years, renewable upon satisfactory performance.

SALARY & BENEFITS: Monthly Gross BDT 1,08,000 – 1,20,000 and other benefits i.e. Festival Bonus, Gratuity, PF, Insurance coverage as per organisation policy, subject to qualification and experiences.

HOW TO APPLY

Please apply online through uploading your CV mentioning two referees by 26 May 20188.

Although Practical Action Bangladesh is an equal opportunity employer but women candidates are highly encouraged to apply. Only shortlisted candidates will be called for interview