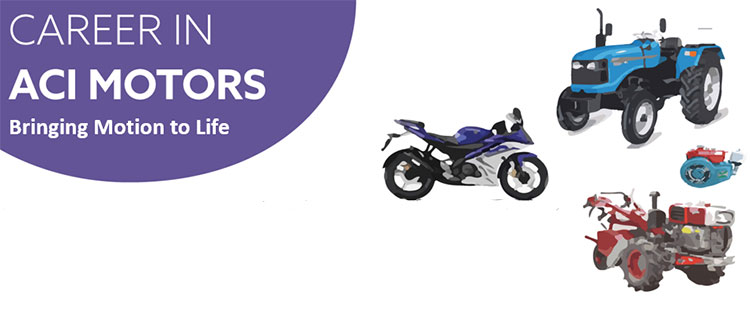 ACI Motors Limited is one of the most growing concerns of ACI Limited. We have Agricultural Machineries, Infrastructural Development Machineries and Automobiles in our Product line. We have a strong market position in motorcycle unit creating a positive impact in young minds with its world-class brand 'Yamaha'. We have largest dealer network across the country, Authorized Spare Parts Centres and sales & Service Centres to ensure highest quality after sales services.
For more information please Log on- http://www.acimotors-bd.com/
Graphic Designer/Online Content Designer
Job
Responsibilities:

Create, design, and edit original content for activities related to online marketing as per business needs.
Copy-write, source, amend, upload and edit images, videos and other contents for online marketing.
Maintain current online contents and promotional materials. Update and restructure contents as required.
Modify content for use on any online platform, such as mobile phones or tablets.
Liaison with multimedia specialists for the creation of any new multimedia content.
Ensure content maintenance. Update and maintain time-sensitive materials.
Compile and analyze website usage and user feedback statistics for online marketing activities.

We Require:

Minimum Bachelor's degree in fine arts, media, designing or any other related field of designing.
Candidates MUST have experience working in Media Agencies.
Professional expertise in graphic software's and digital marketing is mandatory.
Candidates with more than 2 years of experience in graphic designing will be preferred.


We Offer:

Job Level
Job Location

ACI Center, Dhaka.

---
Application deadline: 19 January, 2019
Canvassing in any from will immediately lead to disqualification.