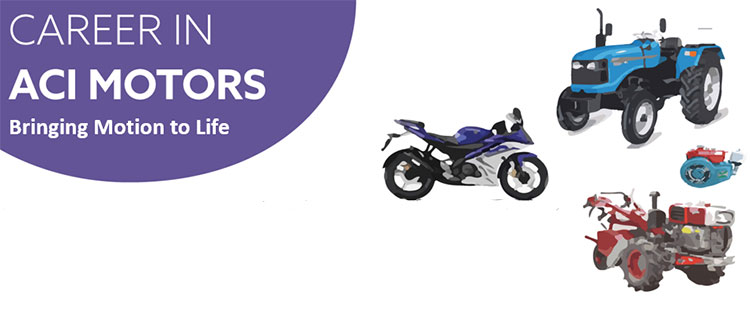 ACI Motors Limited is one of the most growing concerns of ACI Limited. We have Agricultural Machineries, Infrastructural Development Machineries and Automobiles in our Product line. We have a strong market position in motorcycle unit creating a positive impact in young minds with its world-class brand 'Yamaha'. We have largest dealer network across the country, Authorized Spare Parts Centres and sales & Service Centres to ensure highest quality after sales services.
For more information please Log on- http://www.acimotors-bd.com/
Senior Brand Executive, Yamaha
Job
Responsibilities:

Generating ideas to change improvise and develop promotional strategies and programs.
Implementing Dealer inside Branding, and ensuring POS materials in the dealer points.
Ensuring delivery of communication materials for BTL activities, attending and executing BTL activities.
Maintaining proper communication with dealers, field force, agencies and biker community.
Regularly monitoring dealer showroom branding.
Generating ideas and performing activities for creating brand awareness and brand protection.
Monitoring competitors branding activities and performing brand protection activities.

We Require:

Must have at least 2 Years of relevant experience preferably in FMCG sector.
BBA /MBA from any reputed university ( Preferably in Marketing).
Ability to think creatively and innovatively.
Strong knowledge in marketing and branding.
Strong Organizing Skills.


We Offer:

Job Level
Job Location

ACI Center, Dhaka.

---
Application deadline: 16 December, 2018
Any sort of persuasion is highly discouraged.