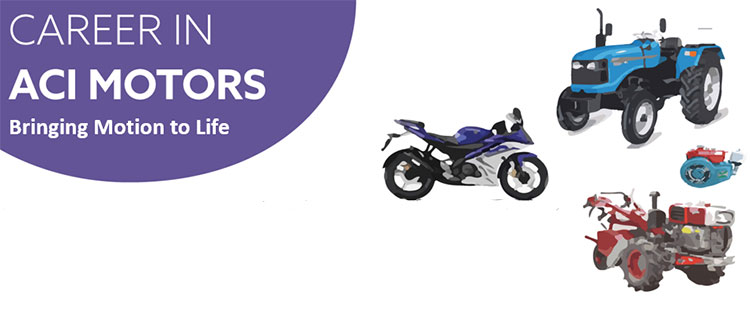 ACI Motors Limited is one of the most growing concerns of ACI Limited. We have Agricultural Machineries, Infrastructural Development Machineries and Automobiles in our Product line. We have a strong market position in motorcycle unit creating a positive impact in young minds with its world-class brand 'Yamaha'. We have largest dealer network across the country, Authorized Spare Parts Centres and sales & Service Centres to ensure highest quality after sales services.
For more information please Log on- http://www.acimotors-bd.com/
Dealer Relationship Executive, Water Pump
Job
Responsibilities:

Building and maintaining relationships with dealers and key personnel.
Ensure dealers and clients are satisfied with the product.
Attending meeting with dealers to build relationships with existing accounts.
Resolving areas of concern raised by dealers.
Conducting feasibility studies, survey for implementation of business plan for assigned product.
Disseminating information to sales team and product development team regarding any issues.
Informing dealers about different features and information about product


We Require:

Must have ability to ride a Scooter and visit different dealer points in Dhaka.
Graduation in Electrical Engineering or Business Studies form any reputed university.
Intention to work and build career in sales.
Strong social and interpersonal skills.
Active involvement in Extra-Curricular activities.
Female candidates are also encouraged to apply.

We Offer:

Job Level
Job Location

ACI Center, Dhaka.

---
Application deadline: 18 December, 2018
Any sort of persuasion is highly discouraged.