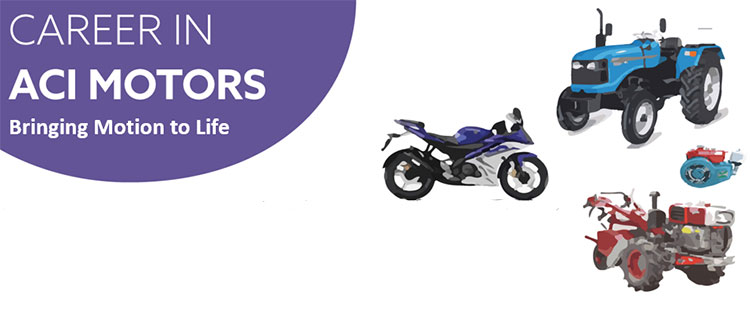 ACI Motors Limited provides Complete Farm Mechanization Solution to farmers by offering a wide range of agriculture machineries - Tractor, Power tiller, Diesel Engine Reaper, Mini Combine Harvester, Rice Transplanter and Construction Machinaries. We have a strong market position in motorcycle unit creating a positive impact in young minds with its world-class brand 'Yamaha'. ACI Motors Ltd. is intended to provide proper maintenance and after sales service through their dedicated and skilled engineers and technicians.
For more information please Log on- www.acimotors-bd.com
Job
Responsibilities:

Prepare qualitative and quantitative analysis of financial and economic data.

Prepare reports and presentations on the business and market intelligence.

Assist in the development of long-term goals and strategic objectives for the organization.

Identify, analyze, and monitor issues that affect profitability, growth, and productivity.

Analyze budget and business plans to ensure coherence and accuracy. Coordinate between Finance

Team and Business Team to ensure a smooth preparation of budget, business plan and feasibility analysis.

Continuously update skill set, expertise, and technical knowledge by attending the required workshops, reviewing publications and courses.

Work closely with other team members in order to achieve company goals and contribute to team effort by accomplishing related results as needed.

Build financial database by identifying sources of information; assembling, verifying, and backing up data.

We Require:

BBA/ MBA/ Masters in Accounting & Information

Systems/ MBA in Finance or CA/ CMA/ CIMA/ ACCA- partly qualified candidates will be preferred.

Expertise in MS PowerPoint and Excel (advanced level).

Experience in relevant field will be given preference.

We Offer:

Job Level
Job Location

ACI Centre, Dhaka.

---
Application deadline: 25 September, 2018
Canvassing in any form will immediately lead to disqualification.