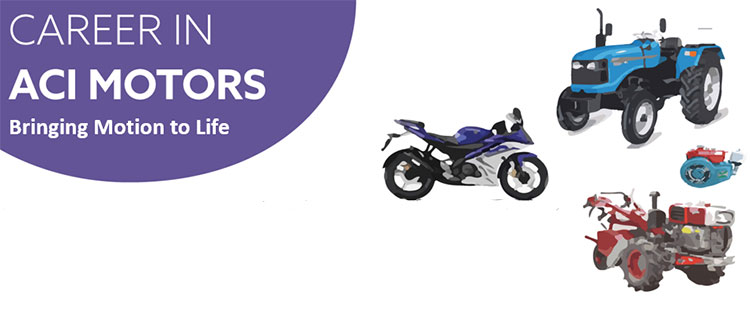 ACI Motors Limited provides Complete Farm Mechanization Solution to farmers by offering a wide range of agriculture machineries - Tractor, Power tiller, Diesel Engine Reaper, Mini Combine Harvester, Rice Transplanter and Construction Machinaries. We have a strong market position in motorcycle unit creating a positive impact in young minds with its world-class brand 'Yamaha'. ACI Motors Ltd. is intended to provide proper maintenance and after sales service through their dedicated and skilled engineers and technicians.
For more information please Log on- www.acimotors-bd.com
Executive, Digital Marketing
Job
Responsibilities:

Creation, development, and editing of original content for activities related to online marketing.

Copywriting, sourcing, amending, uploading and editing images, videos and other contents for online marketing.

Maintain current online contents and promotional materials. Update and restructure contents as required.

Ensure that the content is appropriately structured to meet the objectives for the online platform and the requirement of marketing team.

Modify content for use on any online platform, such as mobile phones or tablets.

Tracking and reporting on online performance. Daily, weekly and Monthly reporting on online performance, acting upon findings and implementing change.

Undertake administrative duties as required to ensure that the online advertising and marketing operation runs smoothly and efficiently.

We Require:

Graduation in any discipline.
Must have professional training expertise in Graphics designing.
Minimum 1-2 years relevant experience in digital marketing.
Knowledge on social media and other digital marketing media.



We Offer:

Job Level
Job Location

ACI Centre, Dhaka.

---
Application deadline: 25 September, 2018
Canvassing in any form will immediately lead to disqualification.