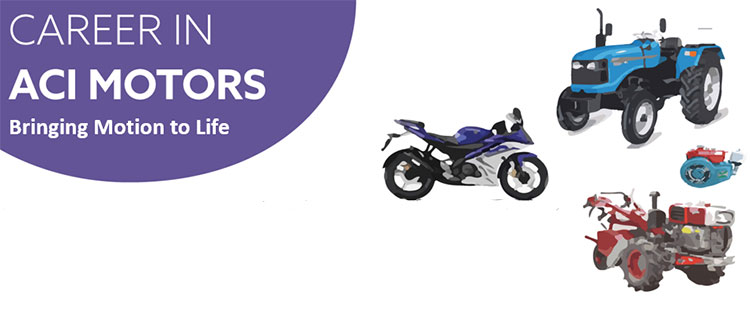 ACI Motors Limited provides Complete Farm Mechanization Solution to farmers by offering a wide range of agriculture machineries - Tractor, Power tiller, Diesel Engine Reaper, Mini Combine Harvester, Rice Transplanter and Construction Machinaries. We have a strong market position in motorcycle unit creating a positive impact in young minds with its world-class brand 'Yamaha'. ACI Motors Ltd. is intended to provide proper maintenance and after sales service through their dedicated and skilled engineers and technicians.
For more information please Log on- www.acimotors-bd.com
Dealer Coordination Executive, Power Tiller
Job
Responsibilities:

Assist marketing team with inquiry tracking data in prescribed format.

Communicate with users of products over phone for confirmation of service as per company policy as well as gather customer feedback in prescribed format.

Make prompt communication to sales/service team for resolving any problem raised by customer/dealer/retailer end for confirming customer support.

Assist sales and marketing team for alignment with sales plan

Maintain and update electronic and paper records to ensure information is organized and easily accessible.

Support sales staff by providing sales data, market trends, forecasts, account analyses, new product information; relaying customer services requests.

Accomplish organization goals by accepting ownership for accomplishing new and different requests; exploring opportunities to add value to job accomplishments.

Prepares marketing reports by collecting, analyzing, and summarizing sales data.

We Require:

Graduation in any discipline. (Preferably Business Graduate)

Flexibility for extensive field visit.

Extra- curricular activities i.e. involvement in any organization/club.

Strong presentation skill.



We Offer:

Job Level
Job Location

ACI Centre, Dhaka.

---
Application deadline: 25 September, 2018
Canvassing in any form will immediately lead to disqualification.