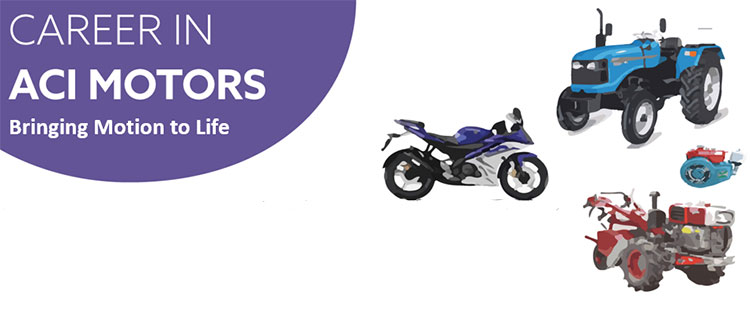 ACI Motors Limited is one of the most growing concerns of ACI Limited. We have Agricultural Machineries, Infrastructural Development Machineries and Automobiles in our Product line. We have a strong market position in motorcycle unit creating a positive impact in young minds with its world-class brand 'Yamaha'. We have largest dealer network across the country, Authorized Spare Parts Centres and sales & Service Centres to ensure highest quality after sales services.
For more information please Log on- http://www.acimotors-bd.com
Sales Executive, Yamaha Music
Job
Responsibilities:

Responsible for achieving sales target of showroom.
Greet customer on sales floor and determines product, type, and quality of product desired.
Apply theory and related knowledge to present, explain, demonstrate and sell products.
Ensure that all products are displayed in an appropriate way.
Demonstrate products that suggest selections that meet customer's requirements.
Explain product features, characteristics and quality of the selected product.
Illustrate the similarities and differences between comparable products and explain how these affect the price of the products.
Maintain the cleanliness of the products.
Set up advertising displays or arranges product on counters or tables to promote sales.
Ensure customer satisfaction in all aspects.
We Require:

Graduation in any discipline.
Experience in Sales in the music industry will get preference.
Strong convincing ability.
Smart, intelligent and strong communication skills.
Strong interpersonal skill.

We Offer:

Professional working environment.
Competitive compensation package.
Performance based career path.

Job Level
Job Location

Dhaka

---
Application deadline: 25 June, 2018
Any sort of persuasion is highly discouraged. .